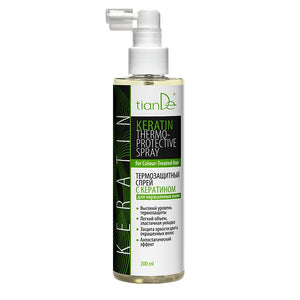 TianDe Keratin Thermo - Protective Spray For Colour- Treated Hair
TianDebeauty
Regular price £13.20 £13.20 Sale
Volume & Elasticity a gift of nature 100% Colour and shining
Products based on legendary aloe, which:
-  restores hair structure;
- makes hair shiny and smooth;
- facilitates combing
Keratin is natural protein making the hair basis. It helps to restore hair structure and provides reliable protection.
Set your hair stylishly using modern styling device and do not worry about your hair health! This spray will help you protect your curls from damages, preserve their bright colour and structure. 
Contents: keratin, vitamins A, E, D - panthenol, silk and almond proteins, nettle, rosemary and passion fruit extracts
200ml
Use on dry or vet hair!!!!