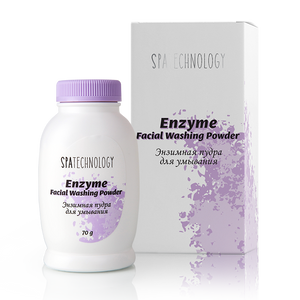 Tiande Facial Enzyme Washing Powder
TianDebeauty
Regular price £21.50 £21.50 Sale
Skin cleansing must be gentle and effective. Enzyme washing powder works thanks to plant enzymes - natural protein compounds that, when in contact with the skin, dissolve impurities and skin fat residues. Because the powder does not have a mechanical effect, it cleanses the skin very gently.

TianDe enzyme washing powder is suitable for all skin types: it soothes sensitive skin and mattifies oily skin. The enzymes contained in the powder:
- contribute to the removal of corneal cells
- deep cleanse the pores, dissolve grease plugs
- stimulate cell renewal

When mixed with water, the powder with plant enzymes turns into a creamy foam for washing the face. This foam can also be used as a cleansing mask - exfoliant and gentle peeling.

The result is a fresh face color, the skin is rejuvenated and begins to breathe, and it is softer and smoother.
APPLICATION:
Pour a small amount of the powder on the palm, foam with warm water, apply to the skin of the face, massage, and then rinse. You can leave the foam as a mask for 3-5 minutes. Do not apply to the area around the eyes. Use 3-4 times a week.