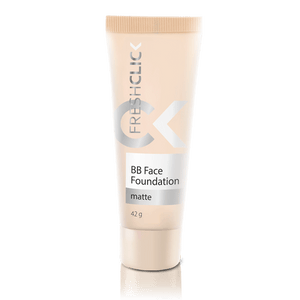 Tiande BB Face Foundation
TianDebeauty
Regular price £18.00 £18.00 Sale
Toning products do not have to adapt the face to the templates, free it from facial expressions, and desperately "smudge" or "concrete" the skin.

The toning BB-base on the face from the FreshClick line is intended for young, active, and modern people. Its light texture like a veil provides excellent coverage while keeping the skin "alive" and giving it freedom.

FreshClick BB-base means:
- light even tone
- matting effect
- smoothing skin imperfections
- care and hydration

The product is ideal for combination and oily skin. BB-base contains aloe juice thanks to which it gently cares for the skin and keeps it "soothed". The matting DRY-FLO® ELITE LL complex effectively absorbs greasy shine, making the skin look velvety.

Provide your skin with a perfect tone with just a snap of your fingers. Filters will no longer be needed!
APPLICATION:
With gentle movements apply to the previously cleansed facial skin.