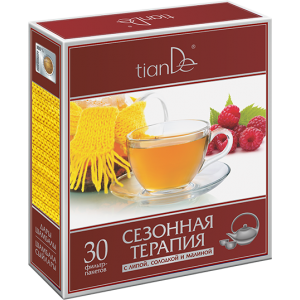 Tiande Phytotea Seasonal Therapy with Lime, Licorice and Raspberry
TianDebeauty
Regular price £9.80 £9.80 Sale
Don't let a common cold grab you by the throat! Breathe with a full chest!
The Phytotea Seasonal Therapy with Lime, Licorice and Raspberry helps you to be armed to meet any season! It will strengthen your immunity and allow you to feel wonderful even in the dankest and dampest weather.

The drink contains 100% natural ingredients: Altai fruits and herbs. Grown in an environmentally clean region, they give the tea the maximum benefit. The active components complex with famous "anti-cough" plants will not allow the common cold to grab you by the throat.

State-of-the-art technology of herb processing preserves and transmits to the drink the maximum amount of valuable substances. The reliable triple-layer packaging of the filter-packets, including sachet, box and film, help to preserve the vitamins, plant macro- and micro-elements.
APPLICATION:
Pour 1 cup of hot water (75-80˚C) over 1 filter-packet. Steep for 5-10 minutes. Honey or lemon can be added to taste.