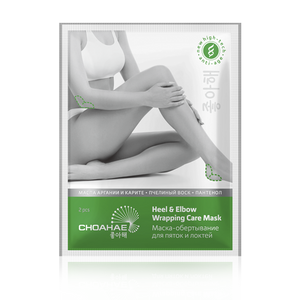 Tiande Heel and Elbow Wrapping Care Mask
Tiande products England
Regular price £12.30 £12.30 Sale
Dry elbows and callused heels are a thing of the past! The time has come to restore their softness and well-kept look.

The Heel and Elbow Wrapping Care Mask from the Korean Сhoahae* cosmetic product line:
- effectively softens the skin
- helps maximize the regeneration of damaged skin
- hydrates and increases strength
- makes the skin soft and flexible

You don't have to sacrifice your time! Simply apply the wrap on your elbows and heels and go about your usual activities. The wrap is shaped like a four-leaf clover, which makes it stick to the skin very firmly. On one hand, this ensures that the skin softens quickly, and on the other hand, it provides comfort when applying the product.

* Сhoahae - in translation from Korean, this means "I like you".
APPLICATION:
Remove the protective paper and apply firmly to the dry, cleansed skin of the heels or elbows. Leave for 1-2 hours (depending on the condition of the skin), and then rinse with water. If necessary, remove the dead layer of skin from the heels using a foot file. Use the product immediately after opening it.