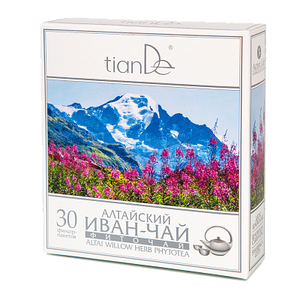 Tiande Willow Herb Phytotea
TianDebeauty
Willow herb promotes to the normal function of urinary tract, supports normal function of prostate, promotes mental and physical well-being.
Ingredients in 2 bags: willowherb (Epilobium angustifolium) herb powder 400 mg/100%
Recommended daily dose: adults should take 1 glass of brewed drink twice a day with meals. Recommended duration of course: 1 month. If necessary, repeat after 3-4 weeks.
Storage: at temperature not exceeding 25°C, in relative humidity lower than 75%, keep out of reach of children.
Warnings:
Not recommended for children and adolescents.
Not recommended for pregnant or breast-feeding women.
It is recommended to consult a doctor before use.
Do not use with this medicine.
Do not exceed recommended daily dosage.
Food supplement does not replace a nutritious and balanced diet.


APPLICATION:
Brew one filter bag of the phytotea in a glass of hot water, let steep, and enjoy the amazing taste!