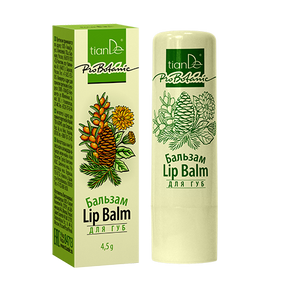 Tiande Lip Balm
TianDebeauty
Regular price £6.30 £6.30 Sale
Our lips are open to all winds, sunrays, temperature drops in winter and in summer… The result is dryness and peeling. Protecting your lips from any bad weather is in your power!

Pro Botanic Lip Balm will shroud them in a veil of gentle care. Enriched with natural oils, it will ideally moisturize and soothe them, eliminating dryness and tightness.

This is emergency aid for dry and weather-beaten lips. The balm:
- protects from adverse effects of the environment;
- helps crack healing, fights against lip dryness.

Apply it every day before leaving the house, and you'll forget about lip skin problems! If your lips have already suffered from wind and cold, and there are painful cracks on them, the balm will quickly heal them and fix them, returning softness and delicacy.

A special feature of the new balm is the light cooling effect because menthol is one of its components. Feel coolness on your lips! Tone your lips!
APPLICATION:
Apply to your lips every time before going out as well as in case of feeling dryness or tightness.